Get Trained By AST
AST is the longest established and highly reputable Approved Maintenance Training Organisation within the United Kingdom and offers a range of licence categories as defined by the European Aviation Safety Agency (EASA)
EASA & UK Part 147 Approved
AST is the only training provider in Scotland Approved to offer aircraft maintenance training and Examination for EASA Part 66 licence categories.
EASA.147.0174 & UK.147.0002
Proud history & award success
We are as proud of our own achievements as we are of those of our great students.
AST Self Study Training Notes
Are you looking to study towards your Aircraft Maintenance Licence, but don't have the time to commit to a course? We have just the solution for you! Our Self-Study Training Notes will enable you to fit in your studies around work and life commitments
View the Training Notes
Welcome to AST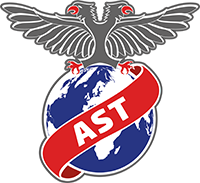 AST has had a long and successful history of providing Engineering training for the world's airlines, maintenance organisations and military formations. Training Engineers for one of the most demanding professions in the world requires a very special approach, and complete dedication to the highest safety standards. From its earliest beginnings, AST has focussed on the delivery of high-quality training ensuring the most stringent of safety standards.
IWe are dedicated to providing the best quality training for you.
Our Mission
Our mission is to provide the best aircraft engineering training in the UK and around the world, by making sure we do our best by our students. The better our students training the better we can reach our goal of promoting good practices and safe standards within the aviation industry.
Where We Work
AST and its partners provide approved and modular training across the world, not just in Scotland. No matter where you are, AST can help you train to be a qualified aircraft engineer.
Our Strength
With nearly a century of experience in training we are the best placed aircraft engineering training school. With fully qualified lecturers on hand at all times to guide you through the training course.
Choose Your Path
Attaining industry recognised & approved qualifications can be achieved a number of ways, and you can do it all with AST. It depends on what suits you best and how quickly you want to reach your goal of becoming an aircraft engineer.
AST, a world leader of Aviation training since 1931, is here to help you...
Your Experience
I do not have Aircraft Maintenance experience yet.
I have an Aircraft Maintenance background and experience
What Suits You Best?
I would like Modular Training or sit EASA Exams to improve my training status.
I would like to enrol on a full time EASA Approved AST Training Course.
Help That You Need
I would like to do EASA Modules or a Course.
I would like to sit EASA Part 66 Modular Exams.
AST Approved Courses
I would like to enrol on an AST Approved Course.
Learn more about training my options.
Modules & Courses
AST is ready and waiting to help you
It is best to talk about your qualification and license improvement requirments, our team is happy to help.
Enquire Now
Modules & Courses Guide
Courses & Modules
We provide a fine array of courses and modules specifically designed to deliver the best possible training outcomes. Depending on what your preferred path to qualification is, we can help build a planned approach to improve your skills, reach your best potential in your aircraft engineering career.
EASA Approved Basic Part 66 Course
AST's Part 66 Approved category B course, including AMET, takes just under 2 years after allowance for AST holiday periods. The result is an approved status, you'll be ready to qualify for your full license after further professional experience.
Part 66 Modular Courses
Flexible short modular course programme, providing the theoretical knowledge and examinations required for advancement to aircraft engineer or for removal of current licence limitations.
Part 66 Zero to Hero
AST offers a Modular Programme titled the 'Zero to Hero' Course and this course will cover all of the Modules in relation to the B1.1, B1.2, B1.3 and B2 Licence Categories.
Discover how we can help
We are happy to give you advice and course consultation. If you would like to ask a question or have a query about our courses then get in touch now.
Contact Us Now
In an Agreement with 'His Majesty's the Sultan's Flight' approximately 20 students from the Nation of Brunei will undertake Aircraft Maintenance Engineering and Management BSc Degree with UHI Perth.
Find out more about what a day in the life of an AST Student would be like
Hamza Saigal, EASA Part 66 B1.1 Licence
Who have we helped?
We work tirelessly for our great students, and even just over the past few years have helped many thousands of people, just like you, to achieve better training and qualifications and a better career.
16,826
Certificates Issued
116
Student Nationalities
Hafiz Syed M. Zohaib

The Aircraft Engineering course is very interesting, with a mix of practical laboratories, demonstrations and theory. The lecturers and course leader have an open-door policy and are always more than happy to help. The careers team are also fantastic. I would recommend people come to Air Service Training to study because the quality of the learning experience is extremely high and moreover,staffs and lecturers are very friendly.

Darren D Cunha

I wanted to work in the aviation industry and the best job I could think of was becoming an aircraft maintenance engineer that's why I've come to study at AST. Many of my mum's colleagues who are aircraft maintenance engineers recommended that I go study at AST. And after a month I see that I have made the right decision coming to AST. All the instructors are friendly and teach really well. I'm really looking forward to complete my course with AST and to get my EASA license.

Ashton Oliveira

AST has given me a whole new perspective to engineering. The teaching facilities have helped me further improve my understanding of aircraft engineering -from the use of projector presentations with detailed notes in the classroom to the fully equipped hangar at the airport, that has many aircrafts as well as workshops which gives students a practical "feel" to the relevant module being taught, as opposed to just learning the basic theory in a basic classroom. The lecturers are very experienced too, they're always willing to help out in areas that you are unsure of and also won't hesitate to crack a joke in class to give us a breather from studying

Syed Afiq

In AST, the diversity of the student from around the world is amazing. We get to know the people from different country and learn about different culture. The lectures are well trained too. The story from their past experience and tips for the students for their future career are always something to keep note. I was introduced to AST by an Alumni from AST. I was that if i would want to pursue my dream as an aircraft engineer, AST would be the place to go for.

Ehsan Sehgal

WHY AST ? Well. I ask, Why not ? For me, its more than just an institute. The teachers, administration staff, everyone out here, they are always there smiling, caring, giving the best of guidance , willing to help you anyway,no matter what. Being a student i came across many teachers back with their unique styles of teaching.But here, they are different. I dont know what's that, but something there in makes it easy for us. And that's what makes it more interesting for us to learn. I never thought that someday i will actually feel like going to college on Mondays. But well, they have made even mondays good for me. What else , it was my dream to study here after getting to know about it and there is no denying that it was one of the best decisions of my life that i made. There are many reasons for WHY AST ? Though i was unable to describe them all. But i wonder, if not to AST for the course, then where else?

Hamza Amjad

AST is the best organization they have got the best team best teachers and the international nature of students on the course has also been a major plus both in terms of making new friends from different countries and cultures to actually helping understanding modules.

Partners
AST works with a number of partners at various locations to provide training and Approved examinations


Contact Us
We are very happy to help and it's best to talk. Get in touch.
Address
Air Service Training, Brahan Building, Crieff Road, Perth, Scotland (UK), PH1 2NX