Who are AST?
Air Service Training Ltd (AST) is a wholly owned subsidiary of UHI Perth, part of the University of the Highlands and Islands (UHI). AST remains a world leader in the field of Aviation training and has been since 1931, making it arguably the longest-established organisation of its kind.
Since its formation, AST has had a long and successful history of providing Engineering training for the world's airlines, maintenance organisations and military formations.
Training Engineers for one of the most demanding professions in the world requires a very special approach, and complete dedication to the highest safety standards. From its earliest beginnings, AST has focussed on the delivery of high-quality training ensuring the most stringent of safety standards.
The AST engineering training facilities are situated on the spacious UHI Perth campus and at Perth Airport, which is four miles north of 'The Fair City' of Perth in Central Scotland. It has an attractive rural location and is less than two hours flying time from London, while the major Scottish cities of Glasgow, Edinburgh and Dundee are all within an hour's drive.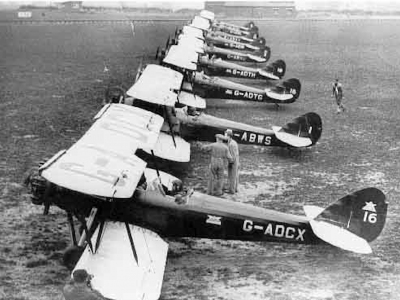 AST has a long history, arguably the oldest aircraft engineering training organisation in the world.
AST works with a number of partners at various locations to provide training and Approved examinations.
AST Teaching Staff
AST invests in the quality of its Lecturers to ensure the quality of its training.
AST has a large number of lecturers ensuring that each subject can be covered by the most knowledgeable person in that particular field.
AST works with established and well known partners in the Aviation Training Industry to provide additional services in-house.
AST lecturers come from a variety of backgrounds including both Military and Civil Aviation.
All AST lecturers hold the same or higher qualifications and/or licenses for which they are teaching.
AST is justifiably proud of the quality, expertise and capabilities of its teaching staff. The engineering lecturers have over 300 years of collective experience in aircraft engineering spheres, in both civil and military environments, including hands-on maintenance, maintenance management, project management and product design.
Teaching staff are able to put their experience to good use in classroom and practical training areas, and use this to enhance the student learning experience. In addition to their engineering skills and experience, many staff hold a professional teaching qualification and there is a programme of staff development to ensure that their skills remain appropriate to changing industry and regulatory needs.
In addition to their primary teaching role, teaching staff also act as mentors to students, and can offer general or expert guidance where necessary on a range of topics.
Capabilities
AST was amongst the first schools to receive JAR-147 approval to deliver and assess the JAR-66 Ab-Initio course. Since that time it has achieved approval under the EASA Part 147 regulations and has been the preferred training provider of major national and international companies, such as:
Royal Brunei Airlines
Cathay Pacific
British Airways
BMI British Midland
EasyJet
Air Seychelles
Kuwait Airways
Malaysian Airlines
Sudan Airways
Aer Lingus
Libyan National Oil Corporation
Lufthansa Technik Malta
Malaysia Helicopter Services
CHC Scotia
Bristow Helicopters Ltd
PDG Helicopters Ltd
Ryanair
Eastern Airways
Babcock International Group
Additionally, AST has been the preferred training provider for aircraft engineer licensing for several military and governmental organisations, including:
Royal Flight of Oman
Kuwait Air Force
Bahrain Defence Force
United Arab Emirates Air Force & Air Defence
Kuwait Ministry of the Interior
Ghana CAA
Botswana Defence Force
Kenyan Police Air Wing
British Army Air Corps
Royal Air Force Oman
In addition to the EASA Part 66 approved courses designed to meet the requirements of engineer licensing, AST has also provided bespoke training to meet the training needs of individuals and organisations. This training is designed using a 5 tier training needs analysis process and has produced many successful programmes, such as:
Aircraft mechanics course
Aeronautical fundamentals course
Helicopter Maintenance Fundamentals
Fuel Tank Safety
Human Factors
Ramp Operations, Ground Handling & Safety Procedures
Safety Management Systems
What do we offer you?
In partnership with UHI Perth, AST delivers a range of academic and professional courses in aeronautical engineering, these are offered in accordance with the European Aviation Safety Agency requirements or as National Qualification, Higher National Certificate and Higher National Diploma level in Aeronautical Engineering, BEng(hons) degree in aircraft engineering and a BSc (Hons) in Aircaft Maintenance Engineering and Management.